Firin' the Band is the sixth episode of the second season of Sons of Butcher.
Ricky is sweet talked into a recording deal with a local producer who later turns out to be a maniacal song-stealing killer. Sol turns the shop into a haunted house attraction which becomes possessed by his dead father's ghost.
Credits: All characters appearing in this work are fictitious. Any resemblance to real persons, alive, dead or undead is purely coincidental.
For a short segment, the song Dear John could be heard.
Horror Film References
Edit
The meat coming alive is a reference to "Return of the Living Dead".
Bonny G chainsawing Malone to death is a reference to "Texas Chainsaw Massacre".
Doug stumbling on the dead bodies of Bonny G's victims is a reference to "Nothing But Trouble".
The spine lamp is a reference to "Deranged".
Sol preparing to attack the meat is a reference to "Evil Dead 2".
Bonny G rising from the back of the van is a reference to "Nosferatu".
Arpo's potato sack is a reference to "Friday the Thirteenth 2".
Arpo jumping out of a box with a pig mask and chainsaw is a reference to "Motel Hell".
Arpo sticking Bonny G through the hook is a reference to "Texas Chainsaw Massacre".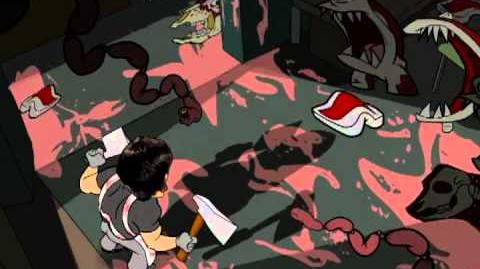 Ad blocker interference detected!
Wikia is a free-to-use site that makes money from advertising. We have a modified experience for viewers using ad blockers

Wikia is not accessible if you've made further modifications. Remove the custom ad blocker rule(s) and the page will load as expected.