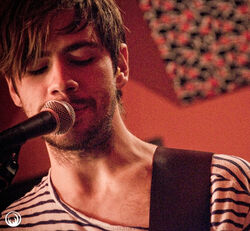 Mitch Bowden is the key grip for Sons of Butcher. He was the vocalist for CHORE, and is currently still working with Dave Dunham in his band Davids.
He also appeared in Tourin' the Canada as their roadie, Bingo. Sol recruited Bingo as he thought the band needed him, and their friendship mainly includes helping eachother off of the stage. The reason Sol picked him up was because he likes his hair, which in reality is a wig.
Ad blocker interference detected!
Wikia is a free-to-use site that makes money from advertising. We have a modified experience for viewers using ad blockers

Wikia is not accessible if you've made further modifications. Remove the custom ad blocker rule(s) and the page will load as expected.